Any good daily skincare routine starts with cleansing.
Facial cleansers are an absolute necessity. If you have a face, you have to cleanse it.
There is a myriad variety of Facial Cleansers available in market. It becomes difficult to separate wheat from the chaff. Especially if you are not familiar with the jargon of beauty products, you can get gobsmacked by the sheer diversity of products on offer in the market.
The ill-effects of using the incorrect choice of a cleanser are all too well known. Plainly speaking, you can be stuck with oils on your face all day! Who wants that?
In this post, I would like to introduce you to the different types of face cleansers. I have discussed which kind of cleanser is suitable for what kind of skin type, its pros, and cons, etc.
By the end of this post, I hope you will be able to figure out what kind of a cleanser might be suitable for your skin.
For every kind of cleanser, I have suggested an actual product available on amazon. Some of these products, I have used myself and can vouch for. For others, I have made use of amazon reviews, brand repute, and other online sources, so that you can directly buy the product without having to do tedious online research.
Before we do that, we will also take a quick look at what IS a facial cleanser, how does it work, and what does it contain.
What ARE Cleansers?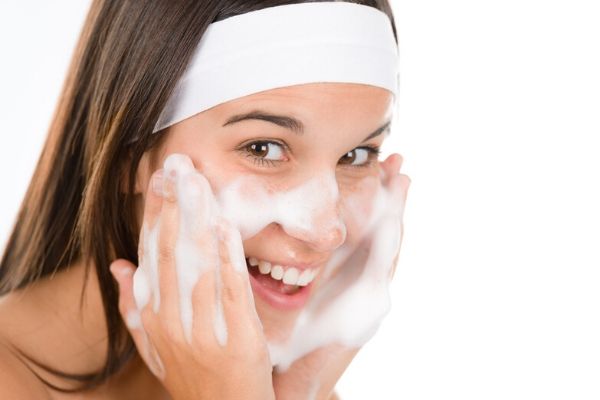 Simply put, facial cleansers are formulated to CLEAN your skin. Cleansers aid in unclogging the pores and exfoliating the top skin cells.
Why do I see SO MANY types of cleansers in market? Why can't we have just one type?
Cleansing your face is an important part of any skincare routine. It helps to remove any dirt, dust, oils, etc from your face. Different people have different types of skin – each with their varying needs.
This calls for different cleansers for different skin types and lifestyle.
Is Face Wash And Face Cleanser The Same?
While both face wash and cleanser are used to cleanse your face, a face wash is a foaming cleanser that helps to remove deeper seated debris and clean pores.
A cleanser, on the other hand, is generally non-foaming in nature and is used to dissolve excess oil, makeup, and impurities from your face.
You can use either one or both in your daily skincare routine. If you are wearing heavy makeup or are exposed to a lot of dust and pollution, it is a good idea to use a cleanser first, and follow it up with a face wash.
How To Use Facial Cleansers?
Wash your face properly with plain water.
Take a small amount of face wash and cream it up on your hands.
Apply the cleanser on your face evenly and then wash it off.
Things to Keep In Mind While Cleansing Your Face
You should only do one rinse – that is more than enough.
One more important point to take into consideration here is to wash your hands with soap or cleanser before washing your face because your hands at the end of the day are the dirtiest part of your body.
Pick up a facial cleanser that is free from soap or any soap-based ingredients, to avoid damage to your skin.
Use lukewarm water while washing your face to avoid damaging the skin.
Do not over-clean your face, as this may make your skin dry and pull all the necessary moisture from it. Your skin does need some minimum amount of moisture to stay healthy.
Do not wash your face more than three times a day. It is not necessary at all. Even 2 is more than enough, especially if you are pretty much indoors all day.
Key Ingredients In Facial Cleansers
It is very important to read the ingredient list, whether it's on a food packet or a beauty product. Broadly, these are the basic ingredients in facial cleansers –
Oil
Surfactant
Water
Oil and surfactant present in the cleanser pull dirt from your pores. Water cleans the pores, removing any dirt and oil from them.
Facial cleansers come in many forms – cream cleansers, gel cleansers, exfoliating cleansers, etc. To know what cleanser works best for you, you might have to try more than one product. So, don't shy away from buying new products until you find the one that suits your skin best.
Here's our guide to the types of cleansers for different types of skin –
Types Of Facial Cleansers For Different Skin Types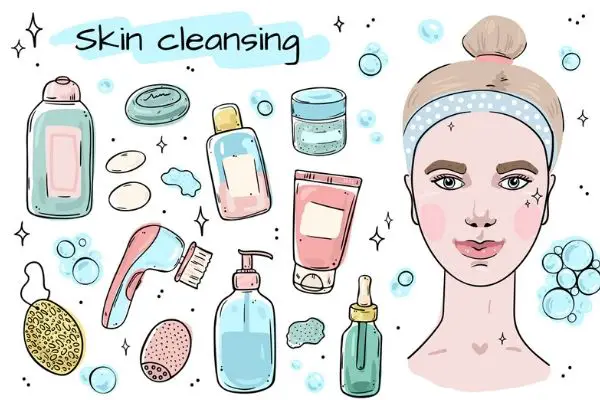 1. Cleansing Oils
For oily skin, and people who wear a lot of makeup, this one works best. Let us see how.
How Do Cleansing Oils Work?
Oils in the product bind with the other oil-based residue on your skin like sebum, SPF, foundation, and soot.
Water-based face cleansers aren't actually capable of removing oil-based debris from the skin, because oil and water don't mix.
Cleansing oils emulsify when mixed with water on your face, and form a milky texture which can then be rinsed off with lukewarm water.
How To Use Cleansing Oils
Take 1-2 pumps of cleansing oil in your hands.
Massage it between your hands for a bit.
Gently rub it onto your face.
Slowly but surely, this is going to break down everything – liquid liner, high coverage foundation, eye makeup – everything.
Once you feel that everything is broken down, just splash some water and emulsify it.
Pros
Oil-based cleansers effectively dissolve dirt and makeup without making your skin feel too tight and make your skin glow.
It also contains anti-oxidants and anti-aging ingredients, hydrating and soothing the skin with fatty acid.
Cons
The only cons of oil-based cleansers are that if you don't wash it off properly, you might be left with clogged pores and dirt. So you might want to make sure you have cleansed, double cleansed everything.
If you want to buy a cleansing oil online, here is a decent product you can buy on amazon. Its called DHC Deep Cleansing Oil.
2. Gel Cleansers
Gel cleansers are typically transparent, and generally designed for deep cleansing, effective at decongesting clogged pores, removing excess oil, and killing acne-causing bacteria, thanks to their antiseptic and anti-inflammatory properties.
So, they give the skin a deep cleanse. If you are on oilier side, gel cleansers are perfect for oily skin.
You can use a gel cleanser for face in the morning so that you can feel fresh and clean for the whole day.
Read: Best Face Cleansers For Oily Skin
La Roche-Posay Effaclar Purifying Foaming Gel Cleanser is a good gel cleanser you can buy online. It is an oil-free, soap-free, gel with clear texture, and comes with non-comedogenic labeling. It has good reviews and is made by a well-known brand.
3. Milky Cream Cleansers
As the name suggests, its texture resembles the cream that forms on top when boiled milk cools down.
These types of facial cleansers are really good for dry skin as they are full of botanical oils. These cleansers are a little less rough than Gel cleansers, and are said to be apt for people with dry skin. So, if you have dry skin, choose milky cream cleansers.
4. Foam Cleansers
When you press them out, these cleansers come as a foam instead of gel or a milky cream.
Foam cleansers tend to strip off more oils from your face as they are intended to make skin drier.
Naturally, these types of facial cleansers are best for people with oily, acne-prone or teenage skin.
Pros
One of the most important things you want to check while buying liquid cleansers is to SEE what it's targeted for. So, if you have acne, you have to find products that have salicylic acid. If you have dry skin, you want to find products that have more oils. If you have oily skin, foam cleansers are good.
Cons
The only downside of these liquid cleansers is that some of them contain some harsh chemicals that can strip your skin of all the good oils that you want to keep. So be careful, be mindful, and read the ingredients before buying.
5. Micellar Water
The two ingredients in Micellar water are – 1. Water & 2. Surfactants
What Are Surfactants And How Do They Work?
Surfactants are a molecule that kind of looks like a tadpole with a head that's attracted to water and a tail that's attracted to oil.
Normally oil and water don't like each other and they kind of sit on top of each other, but the surface of our skin has both of these substances.
The thing is, surfactants are happy in both water and oil. Imagine putting micellar water on a cotton pad. The head of the surfactants is pointing towards the water, and the tail is pointing towards our skin, ready to absorb any makeup. This is perfect to use at the end of the day.
Some surfactants like sodium Lauryl can be really irritating. So, while some people can finish their day off with just Micellar water, many of us just can't.
Pros
Micellar water is generally suitable for all skin types since it's very neutral and gentle.
Cons
The only downside of Micellar water is that you actually need cotton pads. You can't just squash it on your face and rinse off.
My favorite micellar water is the Garnier SkinActive Micellar Cleansing Water. It is made by a very reputed company, has good reviews, and is economically priced.
6. Facial Wipes
Think of facial wipes as something that does a really good job of smearing off the dirt, bacteria, and makeup.
How Do Facial Wipes Work?
Facial wipes are actually saturated with a lot of cleansing agents. Some of them have oils in them. That is what basically does the magic.
Pros
Facial wipes are super inexpensive.
They come for different skin types.
Cons
Sadly, nothing in life comes without cons. Facial wipes contain preservatives that are meant to kill bacteria growing on the moist towel. Those chemicals aren't good for your skin. Alcohol found on wipes can also dry out and irritate the skin. Excessive rubbing can cause pigmentation and pimples.
Facial Wipes can be found easily in any decent supermarket. If you want to buy one online, here is a good one. It is called Neutrogena Makeup Remover Cleansing Towelettes, Daily Cleansing Face Wipes.
7. Cleansing Balms
A lot of people ask what cleansing balms are. To understand it really simple, it is kind of like cleansing oil, but in a solidified version. It is kind of like, a balm.
The only difference is that you have to scoop it out of the container with your fingers and massage it onto your face. That's when it melts with the heat of your hands and becomes an oil. The best cleansing balms can take away all the makeup from your face at once.
Pros
Cleansing balms do a really good job of removing heavy-duty makeup.
It simultaneously cleans your face, moisturizes the dry patches, removes makeup and lathers your face with good oils. It's perfect for wintertime dryness.
Cons
They might just dry out completely during winter and it might get really difficult to take them out.
If you are looking for a decent buy on internet, this one here is an authentic product– CLINIQUE: TAKE THE DAY OFF CLEANSING BALM
8. Bar Soaps
Yes, the good old bar soaps. Bar soaps for skin are a very controversial topic in the beauty industry. The reason they are so controversial is that the team no-soap believes that they are unhygienic, strip your face of essential oils.
But that is not ALWAYS true. These days, there is a new generation of soaps that will keep your skin moist, clean and soft. They also have all-natural and moisturizing ingredients.
Pros
Some facial soaps do a good job of moisturizing your face.
Cons
Storing it in your vanity bag is a hassle. The only option while you are traveling is to carry it in a plastic bag.
My favorite bar soap is the Cetaphil Deep Cleansing Face & Body Bar.
9. Powder Cleansers
As the name suggests, powder cleansers come in the form of powders and turn somewhat creamy or foamy on coming in contact with water.
They are actually dehydrated versions of liquid cleansers. While liquid cleansers are diluted and filled with preservatives, powder cleansers usually use natural ingredients and minerals that are pulverized.
They get activated only when you add water. This makes the powder cleansers a great choice for sensitive skin.
The consistency depends on the amount of water you mix them with. If you want to use it as an exfoliator, add less water and make a paste. If you want to use it as a cleanser instead, just add more water and start cleansing as you would.
They can be used for double cleansing – as a follow up to remove makeup and impurities after using your oil-based cleanser.
Powder cleansers are good for oily, combination and sensitive skin.
The product named Clinique Fresh Pressed Renewing Powder Cleanser With Pure Vitamin C, available online on amazon, seems decent enough. Though I have not used it myself, and it seems slightly on the pricier side, it comes with good reviews and is marketed by a reputed brand.
10. Clay Cleansers
Clay cleaners contain clay and help in detoxification of skin just like clay masks. They provide mattifying effect and help to remove dirt, excess oil and impurities from your pores. They are rinse-off facial cleansers, ie. you can apply them to your face and then wash it off.
They might sometimes leave the skin feeling too dry which may cause acne for some people.
Ideal for Oily skin, acne-prone skin, and combination skin.
L'Oréal Paris Skincare Pure-Clay Facial Cleanser that you can buy on amazon seems like a fantastic buy. Economically priced, made by a huge brand, and comes with decent reviews.
What Type Of Face Cleanser Should I Use?
The best way to cleanse your face is going to vary from person to person.
You must know your skin type, and decide the most suitable cleanser for yourself. For me, I have oily skin. So, I mostly go for cleansing oils and gel-based face washes.
I hope you guys understand more about the different types of facial cleansers after reading this post.
Just know this. There is no right or wrong. It's just about finding out what works best for your skin, and also personal preference.
Know your skin, know what you like, and add it to your daily skincare routine.
What's your preferred type of facial cleanser? Don't forget to mention in the comment section below.
Resources
Related Skin Care Articles