Are you one of those who are depressed with their oily skin, and hesitate to go outside?
Do you feel that you will never be able to get rid of oily skin?
Oily skin is not a curse from which one can never be free.All you need is just the right skin care routine for oily skin.
Healthy oily skin has various benefits as well.Yes, you read it right.Even many skincare experts believe that those with oily skin tend to look younger than dry skin people.Because the oil produced by our glands not only keeps our skin nourished, moisturized and lubricated but also protects it from other aging effects.
But not all types of oily skin are good.Your complexion could be oily on the surface but dry underneath.
Oily skin is special in a way because it provides a protective layer against water evaporation.Thus, it prevents dryness.
But, an excessive amount of body oil has higher chances of impurities.It can make your skin tone darker and, in some cases, can lead to acne, pimples, blackheads, and sweating.
Therefore, if you are not taking good care of your skin and have not added a good skin routine for oily skin to your schedule, it can make your skin worse.
There are hundreds of skincare routines for oily acne-prone skin, & thousands of skincare regimen products but let's make it more real…no one has that much time to follow every routine.
Just follow a few right steps, and you will have a flawless face all day long.
Here, in this article, I will share some useful skincare steps for oily skin that will help you maintain an oil-free yet hydrated skin.
When you wake up in the morning, your skin regimen for oily skin should start as soon as possible.
The morning skincare routine is about to start a beautiful day without losing confidence due to your oily face.
Maybe you are attracted to the Hollywood face and you want that skin.But you cannot change skin tone or skin color with any product and routine; you can only take good care of what you have right now.
Hence, build your morning skin care routine today that will gradually help you get the skin you always wanted.
Here are my morning skin care routine steps for oily skin: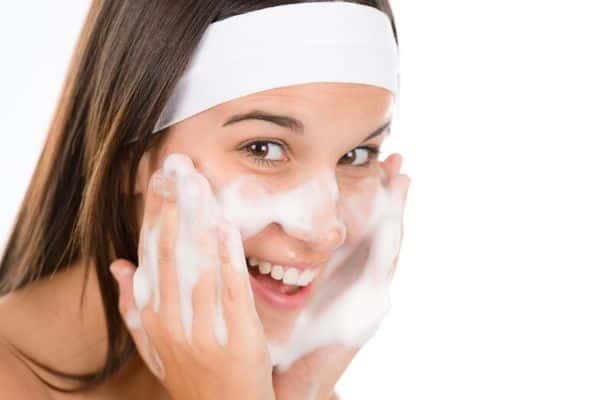 The first step of any daily skin care routine begins with cleansing.It removes all the dirt and oil settled on your face during the night.
Use a gentle face wash to remove excess oil.
Ensure the cleanser you are using forms less foam or is soap-free because such cleansers contain surfactants as a foaming agent.With these ingredients, the cleanser can be very drying and irritating.
Cleanse your face with clean hands and gently massage your face with your fingertips.Massage the cleanser in a circular motion in an upward direction – this prevents wrinkles formation.
I recommend Cetaphil Oily Skin Cleanser– the gentle, foaming, non-irritating cleanser for oily skin.
It helps remove any oil, dirt, dust, or makeup from the surface of the skin, without leaving the skin too dry.
Read: How To Cleanse Oily Skin
Note: If you prefer exfoliating after this step, you can learn more about how to exfoliate oily skin.
Once the cleansing is done, you should move to the toner.
Always look for a water-based, alcohol-free toner to balance your skin.Alcohol-based toners will dry out your skin and increase sebum production.
The best toner will help you to reduce the visibility of the pores.
The Thayers Alcohol-Free Rose Petal Witch Hazel Facial Toner With Aloe Vera Formula and Paula's Choice SKIN BALANCING Pore-Reducing Toner are great options for oily skin as they unclog and tighten pores, revealing smooth and clean skin.You can choose any one of them.
Read: How To Use A Toner For Oily Skin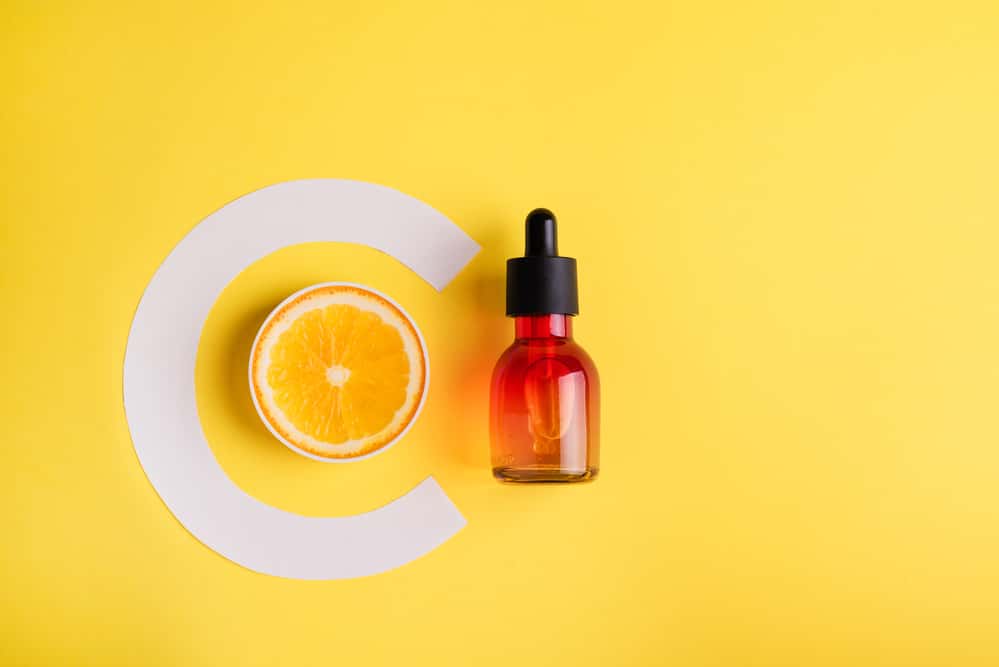 Layer your skin with a serum that quenches the skin's thirst for nutrition.
Apply 2-3 drops of serum and then wait for a few minutes for it to settle down.
Serums should be applied twice daily.
You should always apply the serum directly to your skin after cleansing & toning and before applying moisturizer & sunscreen.
Serum boosts your skin and makes it super hydrating.
Make sure you are going to choose a lightweight and water-based serum because that is an ideal serum for oily or acne-prone skin.Too much oil is not good for oily skin and can leave you feeling greasy and lead to clogging.
Paula's Choice BOOST 10% Niacinamide Booster, Vitamin B3, Vitamin C & Licorice Extract Serum is great for oily skin.It is an excellent serum that contains vitamins and tackles signs of aging, too.
TruSkin Vitamin C Serum for Face with Hyaluronic Acid is another great option.
Read: How To Use A Serum For Oily Skin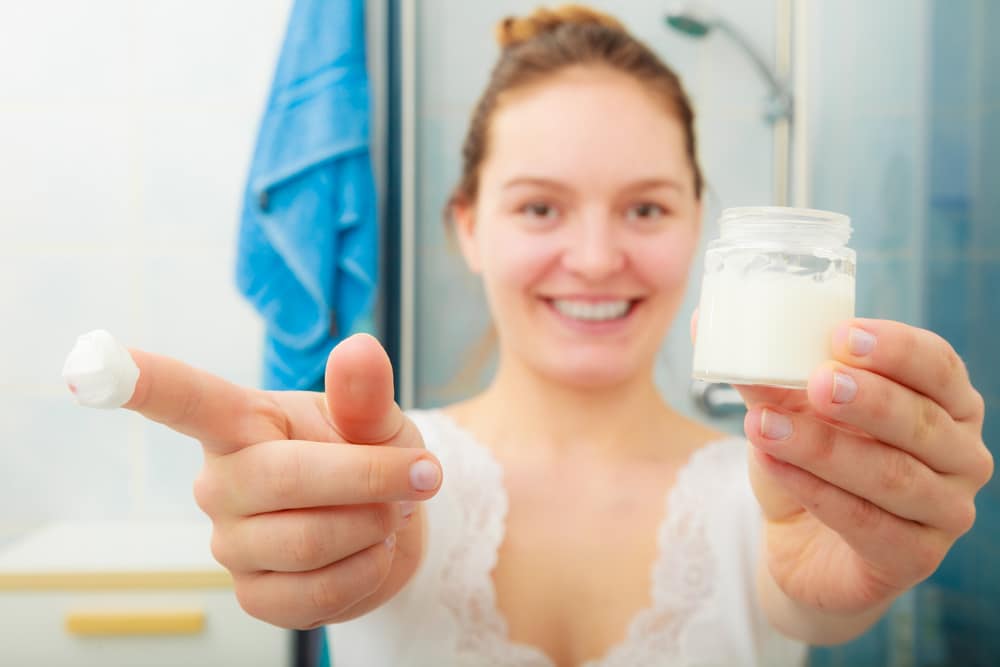 Keeping your skin hydrated is a must, and moisturizer keeps your skin moisturized, nourished, and hydrated.
That's why you should use a moisturizer for oily, acne-prone skin after serum – just as you would moisturize dry skin.
Read: How To Moisturize Oily Skin
A lightweight gel-based moisturizer will hydrate your skin and keep it grease-free all day long.Look for ingredients like vitamin E, C, hyaluronic acid, and less fragrance to get the most out of your moisturizer.  Choose a moisturizer wisely; the wrong one can cause pimples, excessive oil, and more.
EltaMD AM Therapy Face Moisturizer, Peter Thomas Roth Water Drench Hyaluronic Acid Cloud Cream are two of the best moisturizers.You can choose any of them; both contain the critical ingredients required to keep your skin fresh and hydrated all day.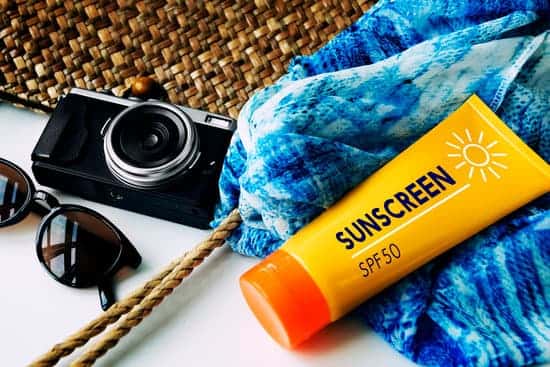 No matter what you do, don't let sun rays ruin your skin.
None of your skincare products will work if you don't use sunscreen to protect your skin.
Sunscreen is the most important part of my summer skincare routine for oily skin.
Even if you are in a rush and can only rely on one product, that product should be sunscreen.
Read: How To Use A Sunscreen For Oily Skin
Apply a sunscreen 15 minutes before stepping out and reapply every two to three hours.
I suggest the EltaMD UV Clear Facial Sunscreen Broad-Spectrum SPF 46 for Sensitive  or Acne-Prone Skin, oil-free sunscreen, to prevent the sun damage.
We all know the importance of morning time skincare, but a night skincare routine is also equally important.
Now it is time to clear the dust of all day long.Before going to bed, it is much important to follow the right night skin routine.
If you do not follow the night skin routine, you will be leaving all-day dirt and oil on your face.Leaving this dirt and oil overnight makes our skin dull and even causes damage over time.
All you need is alcohol-free micellar cleansing water.It will remove all the makeup and dirt sitting on your face.
It's a gentle cleansing formula that removes stubborn makeup easily without irritating the skin.Almost all dermatologists and makeup artists I have talked to recommended micellar water for all kinds of skin.
Bioderma Sensibio H2O, micellar water is really good for oily skin.
You can also use other makeup removers like Cetaphil Gentle Waterproof Makeup Remover.
Use the same cleanser you used in your morning oily skin regimen.
Massage in gentle circular motions for a few minutes and then wash off.Clean your face with a towel, and do not rub your face.Be gentle with your face; after all, it needs extra care.
Almost everyone skips and doesn't add this product to regular skincare products.
To maintain the skin's natural pH balance our skin needs a toner.
Use the same toner again that you used in the morning to remove excess oil and tighten your pores.
Wait for it to dry until it gets mixed into your skin.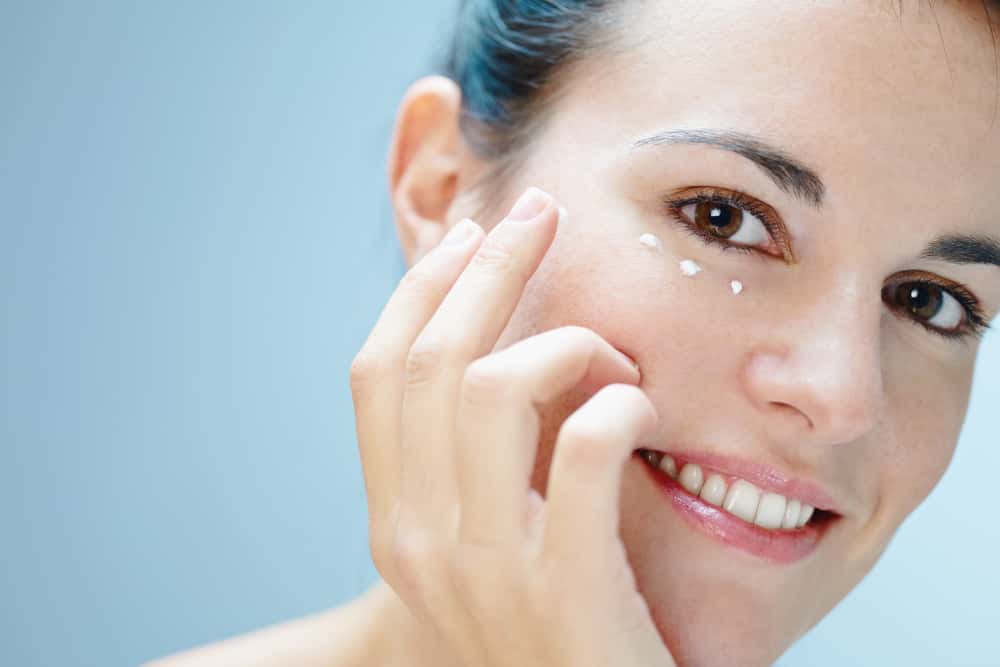 Just as it is necessary to moisturize our face, it is very important to keep the eyes hydrated.
To keep your eyes hydrated and moisturized, you will need to add eye cream in your daily skin care routine for oily skin.It will work overnight to address all concerns related to your eyes.
I suggest Neutrogena Hydro Boost Eye Gel-Cream, as it brightens the under-eye area and reduces dark circles.
No matter your age or skin type, add a night cream or serum to your skin care routine right away if you haven't yet.
You can either use the same serum you have used in your morning oily skin care routine or choose any right night cream.You can also use a mixture of the serum & night cream for better results.
CeraVe Skin Renewing Night Cream increases the skin's natural defense, and over time, gives you an even-looking skin tone.
In addition to the above daily routine steps, it is also important to exfoliate and apply a mask on your skin at least twice a week to remove deep-set dirt and dead skin cells.
Your diet determines the health of your skin.
Oily skin doesn't always mean that your skin is properly hydrated.Your skin may become dehydrated if you are not drinking enough water.
Not sleeping well can also cause dehydration and other problems. Also, consuming too much alcohol or sugar is not good for oily skin.
In addition to the right skin care routine for oily skin, we should also give equal importance to some other factors.
Conclusion
Having too much oil on the skin is not good.This makes our skin look darker, shiny, and can cause acne breakouts.
The good news is that it is possible to get rid of oily skin, and it starts with finding the best skin regimen for oily skin.Get the dewy, healthy skin that you always wanted to have.
Now that you have all the oil-free tips that reduce the greasy look, it is time to put them into practice.Consider all the steps in this skin care routine, and you will have oil-free and hydrated skin.
If you want your products to have the best chance at delivering their promised results, make sure you're applying them in the right order.
If you want more advice for oily skin, read my detailed article on – how to control oily skin.
If there is something that you want to suggest or want to add some steps or products in the skin routine for oily skin, feel free to give your suggestions in the comments section.