Acne, or acne vulgaris, occurs when the hair follicles are clogged with dead skin cells and oil.Although predominant in adults and teenagers, the condition affects the skin, especially the parts with many oil glands.
There are different forms of acne on the face, near the upper chest, and back.Unfortunately, as with most skin conditions, acne causes a reduction in self-esteem and anxiety.The worse scenario is depression and attempted suicide.
True, genetics plays a more significant role in bad acne breakouts.Exposure to the sun, cleanliness, and lifestyle are less significant but noteworthy contributing factors.
In males and females, the excessive growth of bacteriaCutibacterium, and increased sebum production contribute to acne.The skin condition affected over 633 million people worldwide in 2015.More so, that it is ranked as the eighth most common disease in the world.
Since it affects an estimated 90% of teenagers globally, you must know the different types of acne and the roles it plays in puberty.
Table of Contents 1Different Types of Acne 1.11.Non-Inflammatory Acne1.1.1A.Blackheads  1.1.2 B.Whiteheads1.22.Inflammatory Acne1.2.1A.Papules1.2.2B.Pustules1.2.3 C.Nodules     1.2.4D.Cysts2Conclusion

Comedones are the basic definition given to a clogged hair follicle.That is when the follicle is clogged with debris, excess oil, and dead skin cells; medically, they are called comedones.When the follicle gets blocked, it may progress into acne.
How to know what type of acne you have?There are different levels of acne, each with different types of spots.They range from mild to moderate to and severe.
What is mild acne?Mild acne is identified by less than 20 non-inflammatory acne and less than 15 inflammations.
What is moderate acne?More than 20 and less than 100 non-inflammatory acne and between 50 inflamed acne qualify as moderate acne.Most acne type 2 is moderate acne.
Non-inflammatory acne, just like the name, does not swell.As a result, this type is less severe and can be treated with over-the-counter treatment options.For non-inflammatory acne, the pores are clogged.Interestingly, the blocked pores prevent access by bacteria.As a result, bacteria won't thrive in it, and it doesn't swell up.
The most popular examples of non-inflammatory acne are whiteheads and blackheads.
Blackheads are open comedones that are small with dark or black colored spots.It often appears as a slight bump, and the skin surrounding the site stays normal.This type of acne occurs when the comedones are filled with dead skin and excess oil.
Another way to put it is that it is not caused by dirt.The blackness of the affected area results from the black hue caused by an imbalanced reflection of light reflected from the clogged follicle.Unlike its counterpart, the pore's head remains open while the other part is clogged.
The most effective way to treat blackheads is to use an over-the-counter moisturizer, medication, or cream.It will also help if you clean your pores regularly.Be careful not to squeeze blackheads to remove them, because, although it works in some cases, it could cause scarring.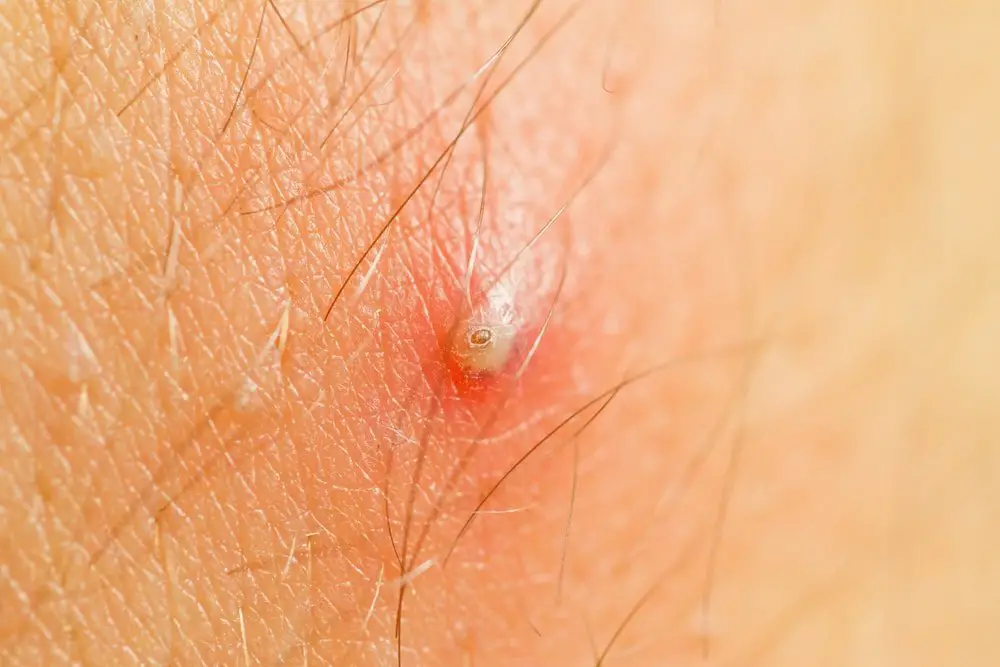 Whiteheads, like blackheads, is another type of non-inflammatory acne that occurs when the pores are clogged.Unlike blackheads, where the comedones stay open at the skin's surface, the comedones remain closed.By implication, the pores are entirely clogged.   
When this occurs, it creates a white bump atop the skin.Although it is caused by excess dead skin and oil, it is more delicate to treat since the pore is closed down.Nonetheless, topical retinoids are a handy way to combat whiteheads.  
You can also try out other over-the-counter medications like benzoyl peroxide, salicylic acid, and sulfur.In most cases, whiteheads do not cause scarring.
The other class of acne is inflammatory acne.Acne in this category tend to affect any part of the body and are usually more painful.Not just this, it is caused in response to a threat by the immune system.
When the pores are inflated, the affected area becomes red and swells.The severity or stages of acne in this category ranges from moderate to severe.Moderate acne includes papules and pustules, while nodular acne and cyst are more severe types of inflammatory acne.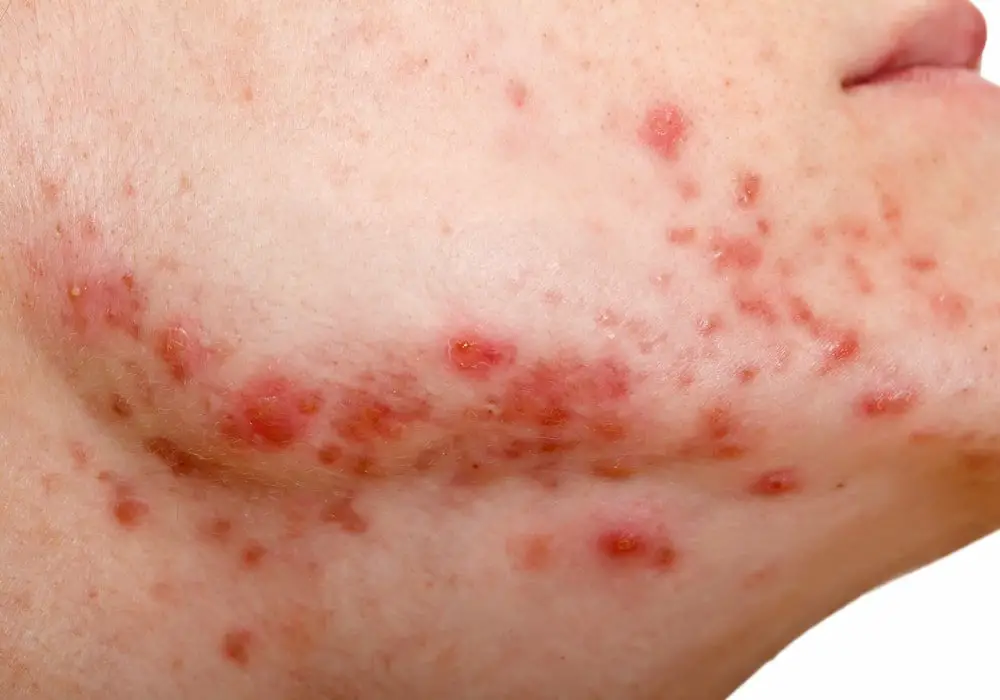 Papules occur when excess skin cells or oil mixes withPropionibacterium orCutibacterium acne on cheeks or skin and blocks the pores.When the blocked pores pop, the contents spill to spread the bacteria unto the surrounding skin, creating an inflamed lesion.
Put simply; Papules occur as a pink or reddish bump on the skin when the comedones are inflamed.Since the condition is beneath the skin's surface, they have a tender and solid feel—red bumps on the skin that are about five millimeters in diameter fall under the classification as papules.
The condition may occur when dead skin cells or oil clogs the pore.However, papules may also break on the skin when the skin is irritated by any non-inflammatory acne.Like other types of 2 acne, papules are mostly limited to the face.
Although papules is a moderate form of acne, it will transform itself into a severe form in no time if not managed.This is because papules are sensitive, and touching or squeezing can make the condition worse.You could end up scarring in the worst case of acne.
OTC treatment with benzoyl peroxide is an effective way to treat papules thanks to its antibacterial activities.Other over-the-counter prescriptions like antibiotics and topical retinoids can also work against skin conditions.
Pustules or pimples is another mild acne identified by a defined circular center and tender bumps.When left untreated, papules may develop into pustules, and it can form on any part of the skin- the commonest being acne type on the face, back, and chest.Although there are different types of pimples, pustules have a small appearance and appear bulged with a red and white center.
Another way to develop pustules is when blocked skin pores are infected.However, it could also be a result of hormonal changes.The main difference between papules and pustules is that pustules contain pus.As should be expected, popping the pus could cause the entrapped bacteria to spread to other parts of the skin.
Any treatment that works for papules will be handy for treating pustules.Alternatively, you can adopt a healthy routine of washing the affected area with soap and cool water and dry with a gentle cloth twice daily.You can also apply warm compress sold in pharmacies on the surface or use salicylic acid to remove the dead skin.
Nodules are large and have an inflamed appearance that is firm to touch.Unlike other types, nodules develop inside the skin.Since the condition is painful, a dermatologist should supervise the treatment.
Nodules are larger than papules and are deep acne with no visible head.It occurs when cells and tissues beneath the skin are damaged due to a clogged pore.The damaged skin allows debris to enter and contaminate healthy follicles.
Hence, it is safe to say that nodules are a severe type of inflammatory acne that can cause scarring or dark spots.Since it contains pus, it feels hard to touch and can be painful.One way to relieve the pain is to wrap ice cubes in a clean cloth or paper towel and pressure on the spot.
Since popping opens you to the risk of scarring or increasing the inflammation, a visit to your dermatologist is the most logical solution.Prescriptions of salicylic acid, antibiotics, benzoyl peroxide, or retinoid work against nodules.If it fails, your dermatologist may use a chemical or laser peel to remove the outer skin layer.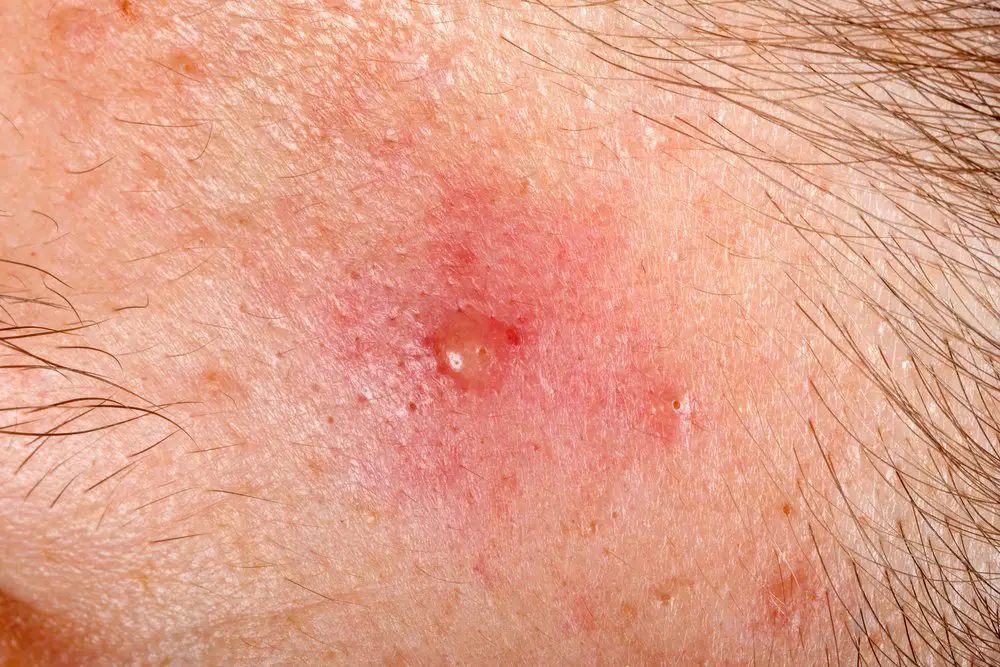 Cysts are by far the most severe form of inflammatory acne.Like boil, they are large like cluster acne and are filled with pus.Cyst often develops when a combination of dead skin cells, oil, and bacteria clogs the pores.However, the clog is further below deep into the skin, unlike nodules.
Cysts have a considerably large appearance of white or red bumps that are painful to touch.Since they are the largest form of inflammatory acne, they rank high on the acne severity chart.One thing, though, they are softer than nodules since they are filled.
When the inflammation bursts, it often infects the surrounding skin area.It is also the most complicated skin acne type to treat and is the most likely type to leave your scarred.Instead of trying to pop a cyst, your dermatologist might have to remove it or inject it with steroids surgically.
In any case, do not try to burst it.  
Acne is caused when dead cells rise and clog the pores of the skin.The oil designed to keep the cells from drying then attaches to the pores and causes the dead cells to join.The mixture then clogs the pores.When bacteria infect the pores, it causes acne to form.
Luckily, over-the-counter remedies will counter acne within four to eight weeks.Now you can answer the question of what kind of acne do I have?For a more severe case of inflammatory acne, visit your dermatologist for medical care.