Are you sick and tired of waking up with greasy/oily skin?
Do you feel confused and frustrated with the blinding variety of cosmetics on offer in the market?
You dream of those oil-free days when you wake up in the morning KNOWING that you have clear skin.
But, you have tried a lot of products and none of them are suitable for your skin type.
I know the feeling.
Good News: In this post, I have compiled a list of the 8 best skin care sets for oily skin.
These skin care kits for oily skin will help you get rid of the excess oil and breakouts, without you having to try skincare products from different brands.
These 8 kits are all from good brands and fit all budgets. They are highly effective as well.
That's right.
Try these skin care sets for oily skin, to get the results you want.
Don't forget to let us know what you pick, and what else you recommend.
Let's jump right in.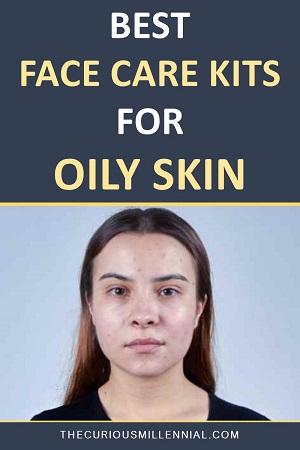 Best Skin Care Sets For Oily Skin
NxN Oil Control System is a 4-step skin care kit for oily skin that comprises a foaming cleanser, a matte primer, an oil-control moisturizer, and a detox clay mask.
This balancing system helps to remove dirt, dust, and shine and unclogs the pores, making it a perfect kit for people with oily skin who are prone to breakouts.
This zero shine system uses clean ingredients and is suitable for both teens and adults.
Mario Badescu Combo/Oily Regimen Kit is an oily skin set formulated especially for oily/combination skin to brighten, refresh and rebalance the skin with a regimen comprising of an Enzyme Cleansing Gel, Cucumber Cleansing Lotion, Aloe Moisturizer SPF 15, Flower and Tonic Mask and a sample of Seaweed Night Cream.
If you want a healthier, more balanced complexion, this skincare kit is perfect for you.
Garnier SkinActive Micellar & Charcoal Deep Cleansing skin care kit for oily skin is a deep cleansing kit comprising of Garnier skincare products formulated with charcoal.
Charcoal helps to deeply cleanse, detoxify, and mattify the skin.
The Ultra Clean 3 in 1 Cleanser, Black Peel Off Mask, Super Purifying Charcoal Sheet Mask help in removing the dirt and dust, and unclogging the pores.
The Micellar Water present in this kit helps to remove makeup and gently cleanse the pores.
Clinique 3 Steps system for Oily/Oily Combination Skin Set is a dermatologically-developed 3-step oily skin set that includes a Clinique Liquid Facial Soap, Clinique Clarifying Lotion, and a Clinique Dramatically Different Moisturizing Gel with Pump.
In just Just 3 steps, 3 minutes, twice a day, you can get great results.
You just can't go wrong here. Your face will love you for it. It will keep your face oil-free all day long.
The oily skin control set by Natural Outcome features a cleanser, toner, and moisturizer to control excess oil.
All products by Natural Outcome are high-quality and are paraben-free, sulfate-free, and not tested on animals.
The perfection face wash included in the kit contains grapefruit, orange, and lime – all citrus fruits with a high content of AHA and BHA.
The mattifying alcohol-free toner helps in deep pore cleansing because of the presence of aloe vera and witch hazel.
The hydrating moisturizer provides nourishment without clogging the pores.
Great Skin Everywhere 3-Step Skin Care Set is a 3-step skin care kit for oily skin.
This ultra-hydrating skin set comes with a Liquid Facial Soap, Clarifying Lotion, and a Dramatically Different Oil-Control Gel.
This skincare set comes in both travel and full sizes, to give people with oily skin exactly what they want. It also comes with a travel-friendly bag.
Annmarie Skin Care Purify Travel Kit is a 4-set skin care kit for oily skin.
It comes with a Cleanser, Toning Mist, Facial Oil + Mud Mask.
This paraben-free, alcohol-free kit is designed to keep your travel needs in mind.
The sizes of products are just apt to fit in your travel bag and yet last long enough.
This set is wonderful for removing excess oil, unclog pores, and leave you with fresh, glowing skin.
Annmarie Skincare products are known to be naturally formulated and cruelty-free.
This Dermologica Skin Kit for Normal/Oily skin contains a full regime of products designed to help clear, hydrate, control oil production, and restore skin to a healthier state.
If you're a first-time Dermologica user, then prepare yourself for great skin with this Skin Kit for Normal/Oily skin.
And, if you're already hooked, these convenient travel sizes will bring professional skin care wherever you're going today.
What Should A Good Oily Skincare Kit Include?
The best skin care kit for oily skin should have a lightweight oil cleanser, an SPF moisturizer, and an oil free, lightweight facial serum.
Some good products to look for: rose hip seed oil, grape seed oil, sea buckhorn oil , lavender essential oil, etc.
Look for products where the main ingredient is within the first five ingredients.
Tips To Use The Best Skincare Kit For Oily Skin
Your skin care routine should include oil cleansing, using less products that stimulate the oil glands, moisturizing and using an SPF moisturizer.
Some good moisturizers for oily skin are rose hip seed oil, cucumber extract, aloe vera, green tea extract etc.
Oily skin can be prone to breakouts or irritation because of ingredients in certain products.
The best facial serum should have an anti-aging formula with non comedogenic properties .
There are many more aspects to having healthy skin than just diet and cleansing – but they're two major factors depending on how oily your skin is. For example one could argue that drinking water helps keep the body hydrated, lessens bloating and fights acne .
Don't forget to check out our guide on the best face care products for oily skin.