Living with oily skin is tough, isn't it?
Your face just gets greasier through the course of the day.
Excess oil on your face can lead to acne, dull skin, and itchy face, among various other problems.
One of the best ways to get rid of excess oil and dead skin cells from the face is to use an exfoliating scrub.
But it doesn't have to be expensive, packaged in a fancy jar, or include ingredients that are harmful to your skin.
For a radiant, oil-free complexion, all you need is a bottle of olive oil and some sugar.
Sounds simple, right?
In this post, we will learn how to prepare and use sugar and olive oil scrub to prevent excess oil from clogging into your pores.
This olive oil sugar scrub recipe, as the name suggests, uses olive oil and sugar as its main ingredients.
This sounds counter-productive. Oil for treating oily skin?
I know. Just bear with me for a while.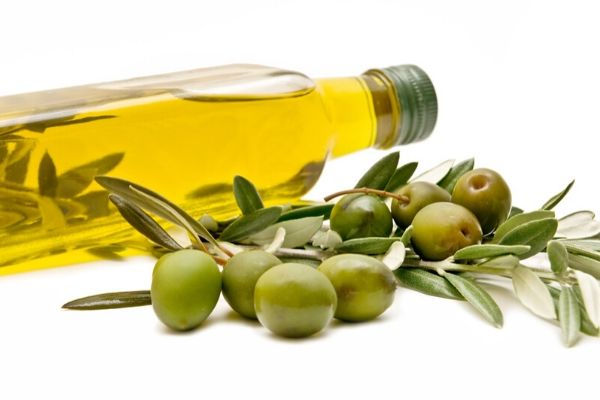 ​
Contrary to what it might sound like, olive oil is great for controlling oil production and acne.
Too much oil and sugar might be bad for the stomach, but together they make a great combination for the skin!
Can You Use Olive Oil In A Sugar Scrub?
Yes! A sugar scrub can be a strong exfoliant, and with olive oil, it becomes gentler.
So if you are looking for a way to soften your skin through gentle exfoliation, using olive oil in the sugar mix will help you achieve that end result.
If applied to damp skin or immediately after a shower, rubbing this mixture onto your wet body will help to moisturize and soften your skin.
For the best benefit to your skin, use extra virgin olive oil.
Look for "first cold-pressed" on the bottle, as that will contain the most amount of anti-oxidants.
Antioxidants help to keep the skin cells healthy and smooth.
You can try La Tourangelle, Organic Extra Virgin Olive Oil, 25.4 Ounce (Packaging May Vary). It is cold-pressed within a day of harvest.
Cold-Pressed: Our 100% Organic Extra Virgin Olive Oil is a well-balanced, intense and fruity extra virgin olive oil with hints of freshly cut grass, almond, fresh olive leaves and a bright peppery finish
Quality You can Taste: The mainstay of all La Tourangelle's natural, artisanal oils is premium taste derived from the best quality ingredients. Add the flavor of La Tourangelle to any meal
Delicious and Versatile: Our oils, dressings and vinaigrettes make it easy to create distinctive dishes for professional chefs, novice cooks and foodies. Great for salads, meats, pastas and more
Natural and Sustainable: La Tourangelle's natural artisan oils, vinaigrettes and almond butters provide the perfect touch to make a gourmet breakfast, lunch, or dinner. We are passionate about making high quality ingredients that are good for the table, community and planet. Through regenerative farming, artisan production methods and nature friendly packaging, we want to empower people to cook like they care.
Flavors from the World: From Organic Extra Virgin Olive Oil to our AvoCoco butter substitute & Pesto Oil, La Tourangelle brings the best oils and flavors from around the world straight to your kitchen
What Does Exfoliation Do?
Removing dead skin cells helps in collagen production, removes wrinkles, improves the texture of your skin, and results in a more evened-out complexion.
You will even get rid of blackheads and whiteheads by using a good exfoliator.
Exfoliation also reduces your pore size, which makes your skin glow.
Is Olive Oil And Sugar Scrub Good For Your Face?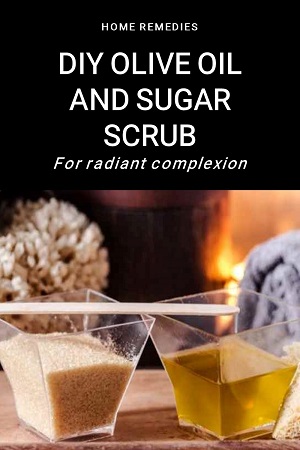 Depends on how you make it.
The truth is there's no way to be too specific with a scrub recipe because they can vary greatly.
You could have sugar, salt, honey, papaya extract, avocado oil… the list goes on and has infinite combinations of ingredients you can put in them.
You are better off making your own homemade scrub(s) at home based on what you need for your face (i.e oily skin or dry skin) rather than relying solely on a commercially made one that may only cater to one issue/skin type.
How I Came Across This Olive Oil Sugar Exfoliator
I purchased an expensive olive oil and sugar scrub from the store once and loved it.
But I was not willing to repurchase the product because of its hefty price.
I thought to myself – if olive oil and sugar are the only two main ingredients in the scrub, I can try to make it myself.
I had both the ingredients available in the kitchen.
I quickly looked up the recipe for a simple exfoliating scrub on Pinterest, and soon had this DIY recipe that you are reading today.
This olive oil sugar scrub has made a huge difference to my skin.
My pores are smaller, blackheads are gone, and my skin actually glows.
Who knew you could do this in the comfort of your home?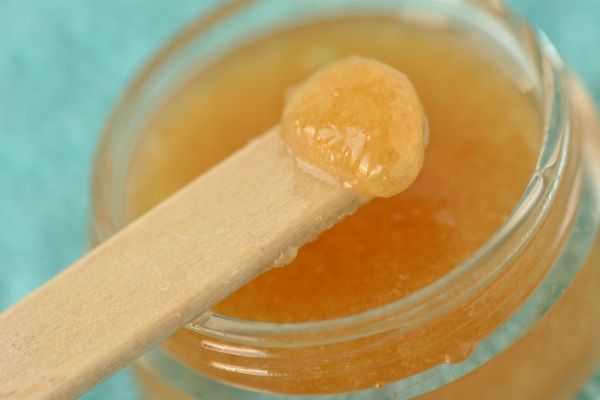 This homemade olive oil and sugar scrub will help control acne and keep the shine away.
It is totally natural, affordable, and easy to use.
My skin feels great after using this scrub.
I never have to worry about shopping for an exfoliating product in the market, since I always have my homemade scrub in hand.
Does Sugar And Olive Oil Lighten Skin?
Sugar can lighten and soften your skin after just a few applications – all you need is sugar, vegetable oil, aloe vera.
Mixing equal parts of granulated white sugar with the liquid in one bowl or cup will work wonders for your face.
Simply apply it onto the desired area of skin before bedtime to reap its benefits!
You can use the olive oil sugar scrub twice a week.
There are a lot of benefits of using this sugar olive oil scrub for oily skin.
Sugar is a natural exfoliant and helps in reducing excess oil on the skin.
It is great for treating acne by removing the skin peels that are leftovers of acne.
Combining olive oil and sugar serves as one of the best homemade face scrubs for oily skin.
Liked this post? Here are some more homemade scrubs for oily skin for you to try.
There Ya Go!
Do comment below if you liked this DIY sugar and olive oil scrub recipe for oily skin. It is all-natural, easy to prepare, and affordable.