Nothing makes Christmas holidays happier than showering your loved ones with thoughtful gifts. And if you have ladies in the house, the joy and holiday spirits are lifted when these beauty devotees receive lush Christmas gift sets and celestial fragrances.
But with so many shops offering zillions of products, it could be really hard to pick the right Christmas presents for the ladies. And hence we are here to save you some time.
We have curated a list of 20  Christmas gifts the ladies will instantly fall in love with.
These accessories can be easily ordered from amazon.com so that you won't have to wander around in the city looking for them. So read on, and happy shopping.
1. MAC Fluidline Eye Liner
MAC Fluidline Eye Liner Gel Blacktrack
Everybody knows someone who is a sucker for eyeliner. Until they've applied the liner with professional precision and have achieved the desired look, they will not step outside the house, even if it takes a large chunk of the day.
And as ladies, we are guilty too.
Eyeliners are the best tools for defining your eyes add a dramatic look. And if you are someone who is a fan of different styles and bold looks, this is a perfect product.
MAC fluid line eyeliner is a gel-based liner with creamy, soft formula and dark, intense color. This waterproof eyeliner is applied with a brush and is perfect for creating wings, cat eyes, smokey eyes, etc.
2. Sephora Favorites Lashstash
Product Name: Sephora Favorites LashStash To Go 5 Piece Mascara Set Voucher
A good mascara thickens, intensifies and darkens the eyelashes, making them look lengthier. And if someone asks if you are wearing fake eyelashes, congratulations, you've done a great job picking the perfect mascara.
Sephora Favorites Lashstash comes with 5 deluxe sample mascaras to try and one voucher to redeem the perfect one. Ideal for stubborn unruly lashes that just won't hold a curl, this mascara will transform and will volumize in just a few strokes.
3. Yves Saint Laurent YSL Sparkle Clash
Yves Saint Laurent YSL Sparkle Clash Edition Maquillage Multi-Use Face Palette
This multipurpose makeup palette is best for someone who loves experimenting with bold looks. With a chick logo and notebook like packaging, this product will help add more shimmer to the makeup.
The pallet contains eye-shadows, lip colors, blush and highlighter, all in one, ideal for achieving a daring look and on the go touch-ups.
Whether you are on a road trip or just going on a girl's night out, the pallet fits effortlessly in the purses as well as clutches due to its compact size and can be carried easily anywhere.
4. Dyson Airwrap Complete Styler Hair Styling Set
Dyson Airwrap Complete Styler Hair Styling Set – Pre-Styling Dryer, 4 Curling Barrels, 2 Smoothing Brushes and Volumizing Brush
Now we know this product might take a toll on your budget, but for someone who doesn't compromise when it comes to gifting and making their ladies feel special, this is the perfect gift.
The product comes with 4 curling barrels, a volumizing brush, a pre-style dryer, 2 soothing brushes, and a case to carry it all. The product dries and styles of hair simultaneously and reduces heat damage to the minimum. Ideal for creating waves and curls, this product comes with a case to carry it all.
5. Tatcha Bestsellers Set
This product is perfect for someone who just can't shut up when it comes to complaining about their skin. And if the person passionately advocates animal rights and has gluten as a sworn enemy, this will be a match made in heaven.
This product is inspired by the skin secrets of the geishas of Japan. The product is a set of four best selling products by Tatcha and is made from antiaging Japanese superfoods like rice, green tea algae, etc.
The product comes in minimalistic packaging and is great for uneven texture, dryness, dullness, and pores.
6. Avalanche All-Over Metallic Powder Set
Avalanche All-Over Metallic Powder Set | FENTY BEAUTY BY RIHANNA
A treat for all the Rihanna fans, by Rihanna, this limited edition set of metallic powders contains seven shades of jewel tones, perfect for all skin tones and achieving blended party effects.
The formula of these powders is as light as air and is also parabens, phthalates and sulfate-free, so you don't have to worry about skin damage.
Each shade is housed in acrylic jars with a shimmering silver lid with the logo embossed on the top. The powders can be used as blush, highlight, eyeshadow and can be also used over your regular lipstick to amp up the look. The packaging is chic yet classy, perfect for the holiday gifts.
7. Trade Brush Set
SEPHORA COLLECTION Tools Of The Trade Brush Set
A head-turning makeup look can be achieved only if you've got the right set of tools to apply them. Whether you are blending, sweeping, stroking or curling, if you don't have the right tools for the application, all your efforts to look glamourous will be in vain.
Trade brush set by Sephora is a set of 8 high-quality brushes, perfect for makeup application on any part of your face. The set contains a precision shadow brush, smudge brush, powder brush, contour brush, blending brush, brow comb, fan brush, and an angled liner brush.
All of these brushes come in a travel roll for storage and can be carried easily anywhere.
8. Glow Essentials Mask + Moisture Set
GLAMGLOW Glow Essentials Mask + Moisture Travel Set – SUPERMUD (0.7 oz), GLOWSTARTER NUDE (0.5 oz), GRAVITYMUD (0.35 oz), THRISTYMUD (0.35 oz), POWERMUD (0.35 oz) & FLASHMUD (0.35 oz)
Mud masks have revolutionized the self-care regime of many ladies. Many women have incorporated facial masks to their beauty routine to keep their skin tight and wrinkle-free. And thanks to Glamglow, now you can apply a facial mask on the go.
The product comes with 5 mud masks, namely super mud, thirsty mud, gravity mud, flash mud and powerful and one moisturizer for glowing skin packed with vitamins, botanicals and hyaluronic acid for keeping the skin hydrated.
9. Dior Rouge Blush
Dior Rouge Blush Limited Edition Midnight Wish 001
10. Viktor & Rolf Flowerbomb Midnight
Viktor & Rolf Viktor & Rolf Flowerbomb Midnight Eau De Parfum 50ml
Does your beauty junkie love perfumes and scents? If yes, this is the product for her. As the name suggests, this perfume is bottled explosion of the fragrance of some of the most aromatic flowers.
The perfect collision of the dominating fragrance of Jasmine and fruity scent of blackberry will certainly get your lady hooked to this musky yet zesty fragrance.
11. Lamora Exposed Eyeshadow Palette
Best Pro Eyeshadow Palette Makeup – Matte Shimmer 16 Colors – Highly Pigmented – Professional Nudes Warm Natural Bronze Neutral Smoky Cosmetic Eye Shadows
A perfect gift for someone who can't get enough of the eye shadow. Lamora Exposed Eyeshadow contains fifteen different colors for every mood.
Whether you are looking for a makeup-less all-natural look, a playful look, a classy mysterious look or you want the eyes to make a bold statement, this eye shadow offers diverse hues and tints, perfect for every occasion.
12. Azure Beauty Dip Powder Nail Set
Dip Powder Nail Set for Nail Art 10 Fruity Colors Collection, Dip Powders Nails for French Nail Manicure Nail Art Set Essential Set No UV/LED Nail Lamp Needed
Don't you wanna impress your lady with your smart gifting choice. If yes, then you must grab these satisfying nail art sets, because everybody knows that a woman loves her nails more than anything else.
This set comes with 10 fruity color collection for her nails and a user manual. This craze-dipped manicure set is non-toxic and odorless, even it can give a perfect finish to your french manicure.
This set is chip-free, which is a dream for every woman.
13. Dior J'adore Eau de Parfum Roller-Pearl
Dior 2019 J'adore Eau de Parfum Roller-Pearl
Want to gift something more memorable and divine, here's the J'adore Eau de Parfum Roller-Pearl by Dior. This pearl roller gives a beautiful essence of J'adore flower bouquet. This priceless jewel perfume settles easily in your bag and comes in a travel bottle, which looks classic and can be perfectly carried.
If you are going to gift this bunch of fragrance to your friend, then you would probably stay in her mind for a long time.
14. Fenty Beauty Bomb Baby Mini Lip and Face Set
Fenty Beauty by Rihanna – Bomb Baby Mini Lip and Face Set
Men usually crip about delaying habits of women, now you have a chance to get rid of this annoying habit. Fenty Beauty has come with a complete and quick make-up solution.
This combo consist of a face and lip luminiser. You can gift this awaited set to your girl and see quick results with a natural finish. The face luminiser gives the best finish to her face and her lip gives additional moisture and color to her face.
So you can kill two birds with a similar arrow.
15. Becca Glow Essentials Kit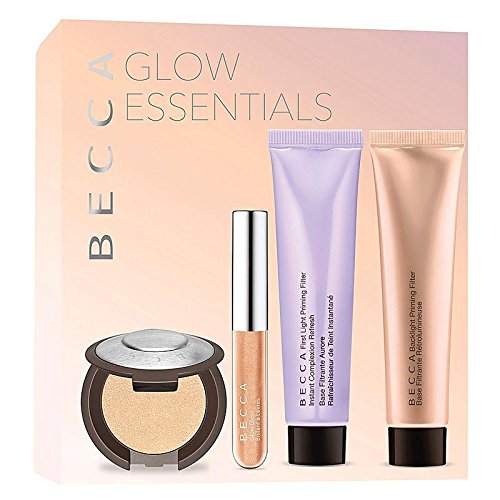 Becca Glow Essentials Kit – Collection of 4 Best-sellers (Trial Size)
Reduce your friend's backpack, and gift her Becca's, Glow Essential Kit. This is the perfect makeup solution for her travel kit.
This kit is the combination of Becca's most affluent products having an excellent highlighter, primers and lip gloss. The highlighter is called the shimmering skin perfector giving a glamorous look to your friend's style and look.
Make her even bolder with the outshining lip gloss. If your friend is new to the world of make-up then this kit will transform her aura.
16. Game of Thrones Eye Shadow Palette
UD GAME OF THRONES Eyeshadow Palette
If you know a girl who is a fantasy hero of her dreams, then this eye-shadow palette will excite her. Bring these 20 color palette to her and see the automatic glow on her face.
This eyeshadow palette comes with a distribution of 20 eye colors into House Targaryen, House Lannister, House Stark, and the White Walkers. These metallic shades are inspired by the 7 kingdoms and favorite places of Westeros.
Make her feel the royalty of the throne with these exciting eye-shadows.
17. BaBylissPRO Hair Dryer & Straightener Set
Gifts are of no worth until appreciated. If your a practical person looking to gift something long-lasting and considerable.
The Babyliss Pro has got a combo of 2000 W ionic dryer and a nano titanium 1″ Ultra-thin straightener. This combo will contribute serenity to her look giving her the extra edge of nature.
This modern and sensational combo will enlighten her look for every occasion.
18. Puracy Organic Hair & Skin Care Set
Puracy Organic Hair & Skin Care Set, Natural Body Wash, Shampoo, Conditioner, Lotion (4-Pack)
Gifting can be so stressful when it's done for someone fussy. But not to worry as Puracy has got an organic hair and skincare set suitable for all skin types.
This set consists of an organic hand and body lotion, a natural shampoo, a natural conditioner, and a natural body wash. So this perfect hair and skincare set will give a soft comfort to her body.
And the best part is that this product is been developed by doctors making it the safe and best choice for your girl.
19. Fenty Beauty Mattemoiselle Plush Matte Lipstick
Fenty Beauty Mattemoiselle Plush Matte Lipstick 10 Piece Collection
Lipsticks are the perfect enhancer of a girl's beauty. And if you are planning to gift something long-lasting, elegant, classy and most importantly comfortable to your friend, then what's better than a bunch of Mattemoiselle plush matte lipstick.
These lipsticks come in 10 universal shades and are quite easy to apply, natural, and light that you cannot even feel it. Rihanna made these charming lip colors to remove all your thoughts and just give the glamour and shine on to your lips.
These lipsticks are highly adaptable as they complement every occasion and complexion. So don't missout these cool and tempting lip colors in her backpack.
20. Collagen Crystal Gel Eye Mask
24K Gold Powder Gel Collagen Eye Masks Sheet Patch, Anti Aging,Remove Bags,Dark Circles &Puffiness,Anti Wrinkle,Moisturising,Hydrating,Uplifting Whitening,Remove Blemishes &Blackheads (10 Pairs)
Trips and travels can sometimes be stressful, and what would be more relaxing than pair golden eye masks. The new collagen golden eyemasks are extremely beneficial to relax eyes and also hydrate and brighten the surrounding skin.
It is also beneficial for reducing or restricting dark circles. So don't forget to give these flexible pouches to your friend when she is off on a trip. This will relax her overnight and make her ready for the excessive workout for the coming day.
Conclusion
So these were the awesome gift ideas that one should not miss out while planning to give a Christmas gift set. Remember ladies always get happy when someone makes her feel that they care. Show your care to her and see the elongated love she will pour on you.
These make for some great birthday gifts or anniversary gifts as well, so don't hesitate to use these gift ideas for all special occasions. Also, if you do try out some of these ideas, don't forget to ask your loved one to share a review here and also on amazon for others to benefit.
Some of these products might have a shipping cost associated with them, so be mindful of that as well. Leave a memorable impression on her hear and she won't leave till eternity. These gifting options will not just enhance her beauty but will also bring out the serene love she has.